Video
analytics
Bradmax video analytics features
Dashboard - Quick overview about client account traffic
Audience - Statistics about views and users trends in time for the whole account.
Top content - Ranking of top watched contents for recent periods (eg. last month, week, day, hour)
Content - searching and listing statistics (views, users, watching time) for each content.
Engagement - single content statistics, showing how each second of video is watched by users.
Geo - geo information about traffic sources. From which countries, regions, cities traffic is collected.
Technology - statistics about viewers devices and platforms.
Realtime - realtime statistics about watched currently streams
Dashboard screen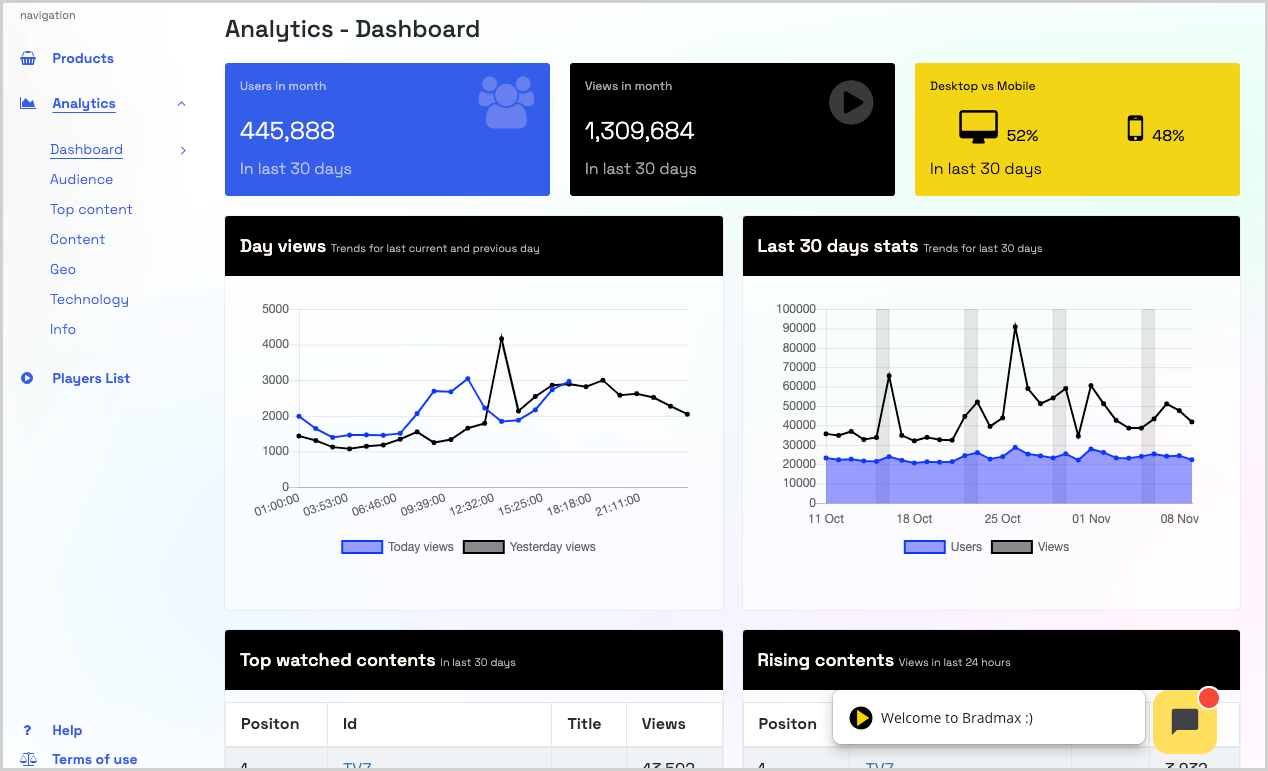 Geo view - countries information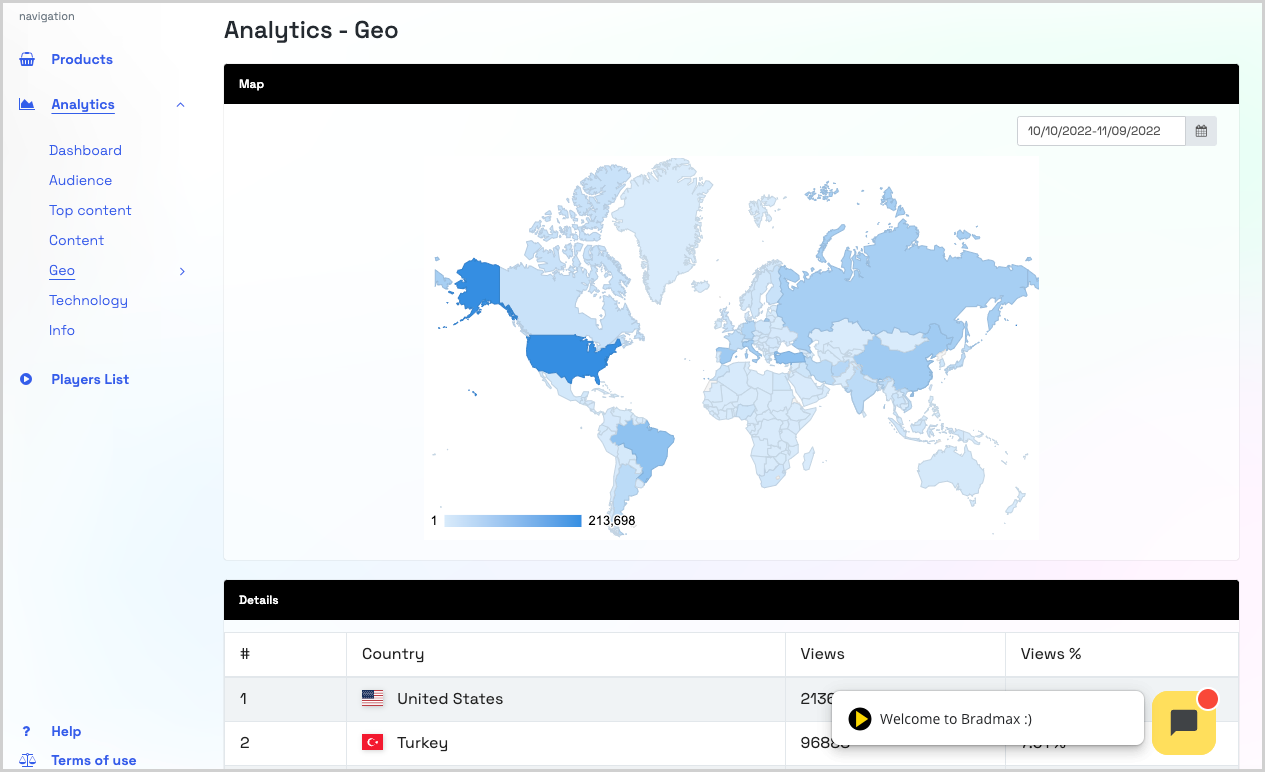 Engagement rate for VOD content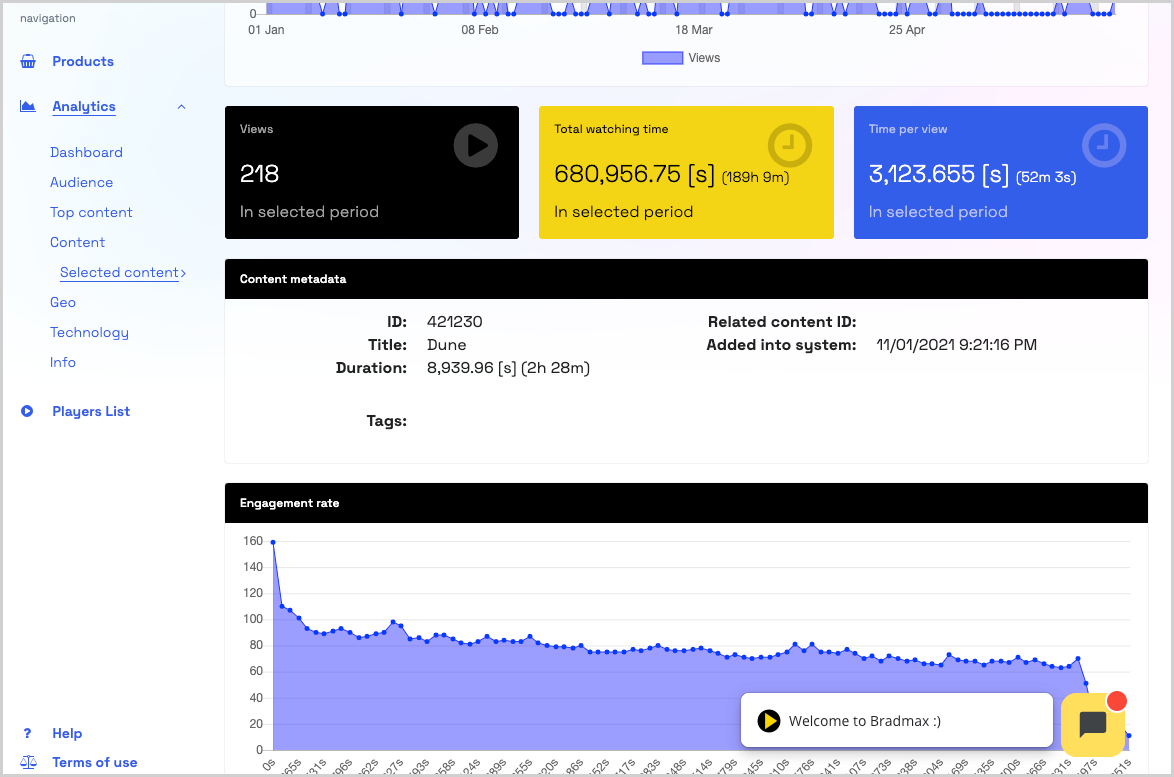 Low latency statistics
We provide real time analytics - information about current watched streams and their viewers with 1 sec latency. With these statistics you can:
tune in real time advertisements campaigns.
setup best performing content and find best placement for it in your web page or app
detect problems with playback, before users will report it
monitor if recent changes do not affect your performance
Rest of our statistics are also available in low latency. Typically it is just 10 seconds from action performed by the user to see it on any statistics screen. Of course with high traffic (for eg. 20 000 concurrently monitored streams) latency can increase to 60 sec, but it is still much less than other solutions.
Plugins for popular players
For easier integration with our statistics we provide plugins for:
jwplayer
kaltura player
shaka player
clappr
videojs
or general HTML5 video tag integration (it monitors directly HTML5 video tag)
Cost effective video analytics
There are several video analytics solutions available, but their biggest disadvantages are cost and too big complexity - frequently only useful for data analysts. We provide a more intuitive and much cheaper solution - Bradmax analytics.
White label video analytics
If you already have some video platform and you lack video analytics, then we can easily help you to fill the gap. We provide our solution in the whitelabel model with very easy integration. Integration will be in two areas:
Data collection (adding video analytics plugin to your player or using our player, passing some metadata about video)
Statistics presentation (you can implement your own charts or just embed our analytics panel or single charts via iframe widget).
Then you can offer them directly to your customers as your own solution. For more information see our page: https://bradmax.com/site/en/white-label
Custom statistics
If you need, we can provide you with custom statistics designed for your market. Sometimes client platforms work in specific areas like e-learning, sport events and some custom metrics / statistics can be very useful for their end-users or content producers.