Responsive design
The bradmax HTML5 player is adjustable and it`s design automatically transforms to look great on different types of devices. Our player is constructed and developed for the viewer. We emphasize the importance of design and user experience which makes our HTML5 player functional and adjustable to all digital environments. We are constantly increasing our creative work with skins and colors which empowers the capacity of the bradmax player.
| | | | |
| --- | --- | --- | --- |
| smartphone | tablet | smart TV | desktop |
Find out more
Check out our configurator
The most intuitive and easy to implement player, created for your needs.
Check our configurator
Video formats
Our player supports different video formats that convert automatically between each other.
HLS and Smooth streaming are integrated into our player without any plugins.

Smooth Streaming

HLS

Dash

Mp4

webm

Live Streaming
Branding
Our player offers a wide selection of logo usage for branding purposes: monochrom, color, shape and no logo.
The examples below based on our bradmax logo highlights all possibilities for your logo placement within our HTML5 player.

color logo

small color logo

white logo

small white logo

no logo
Audio and subtitles
Our HTML5 player is developed to support multiple audio and subtitle files. All cross channel content, different language versions for audio and subtitles can be set up and automatically run via our player.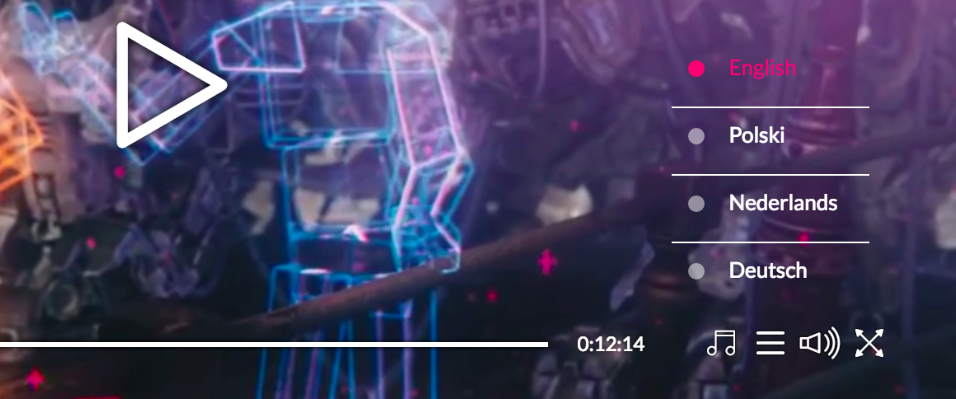 Youtube and Vimeo wrappers
Create your own customised skin and wrap any Youtube or Vimeo with it.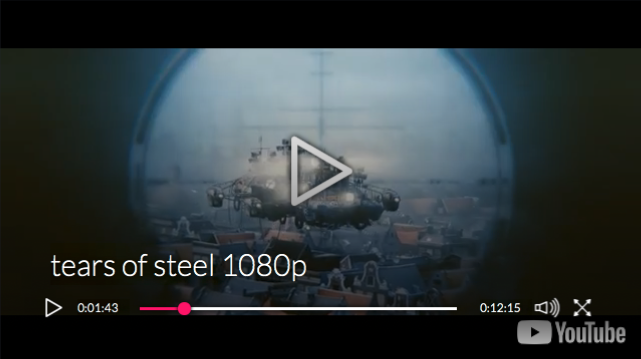 multiDRM
You can use the bradmax player to play Smooth Streaming with PlayReady with Chrome, Firefox or Opera.
Since it is enough to use the Smooth Streaming to stream the amount of collected data decreases.
Everything works in HTLM5 without conversion of the video material (no cost needed for encoding).
The multiDRM solution can be used in combination with our bradmax player or as a plug-in to another player.
multiDRM has a positive influence on revenues for two reasons:

1

It increases the revenue from the content distribution, because of the wider reach of the video content to the viewers (it enables to play on all the possible platforms in the surroundings)

2

It reduces the costs of server usage by 1/3.
Api
Our player is entirely synchronized with a chosen and connected website through the javascript api.
With this function you can also gather all statistics around the player.
Our player is entirely synchronized with a chosen and connected website through the javascript api.
With this function you can also gather all statistics around the player.
End splashes
We have created several options for an end splash to suit your needs, you can chose among: reload, social, countdown & wall. The end splash is continuously developing and new models and features will be added.
Advertisements
We provide compatibility for all advertisements stantards and formats.
We support single and multiple: prerolls, midrolls, postrolls and overlays.
If you are in need of anything besides, we can provide a customized solution for you.
| | | | | | |
| --- | --- | --- | --- | --- | --- |
| | | | | | |
| preroll | preroll | video | midroll | video | postroll |
Frequently asked questions
Why isn´t HTML5 able to play on all browsers and platforms?

The bradmax player requires a browser that supports HTML5 / MSE and H264. Older browsers like Internet Explorer 10 are not supported without additional plug-ins ie flash.

Is it possible to avoid using plug-ins?

Thanks to the proper use of the HTML5, MSE and web API the bradmax player plays video without using Flash or any other browser plug-in. It is possible for a backwards compatibility with the help of plug-ins ie flash.

Is it possible to adjust the players interface?

Yes. The bradmax configurator allows the creation of a player to be adjusted to your needs. If there is a special requirement of a player we can always customize versions for the client and after the wanted needs.

Which codecs are you using?

The bradmax player supports H264 for video and AAC for audio. MP3 is not supported with HTML5. Please be aware of this using HLS with MP3 audio streams.

Which types of advertisments formats do you support?

We support VAST, VMAP, VPAID

What about The bradmax player for Android and iOS?

We are currently testing these platforms and they will be available soon.

I use Flash Player to play HLS in the browser. What are the reasons to start using The bradmax player instead?

The use of HTML5 offers a better quality of the picture, higher security and is more intuitive and friendly for the developers to work with. The bradmax player supports HLS without having to use Flash.

What are the restrictions in the FREE version?

In the free version The bradmax player does not support advertisments or DRM. Even when you use our player in the FREE version you are still able to brand it with your logo.

How can I build a player?

You have to use our configurator and there you will find what you need starting with downloading needed files. It is easier than it sounds.

Does The bradmax player suggest support for YouTube and Vimeo?

Yes. It can work embedded within the skins of these players.

What is The bradmax players advantages against the competition?

We obtain the multiDRM solution and thanks to this we can lower the costs of CDN and encoding even up to 60 %. (multiDRM, find out more here)